Are you getting the word out about your contract database?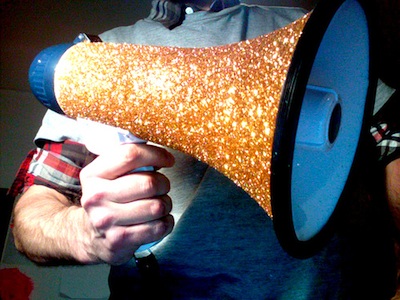 Want to do yourself and your contract database staff and managers a favor? Get the word out about how your contract database can be used as a productivity tool – it just may be the internal boost you're looking for to raise the profile of your database work and efforts.
Recently on this blog we've looked at how information flows – or doesn't – in the modern work place. A common problem that seems to crop up in the modern work environment is the over flow of information resources – but not necessarily an abundance of data transparency.
This can lead to (as mentioned in this blog post) a lot of repeated and unnecessary work, as well as a lot of hunting for data that kills productivity. (FYI: Here's a good post from the Harvard Business Review blogs on the importance of giving workers the data context they need to make decisions).
Bear in mind we're not talking about access to using the contract management solution, but to its data. Open-ended access of any database is usually not a great idea. To keep things tidy and up to date, database administrators often limit or restrict certain data fields or even groups of records, which is a good policy (and something a tool like Contract Assistant allows administrators to fine tune).
Admittedly, contract database administrators and managers have a lot on their plate. There can be hundreds of active contracts in even small-to-midsize businesses, and managing and updating a database is an ongoing task.
Nonetheless, contract managers may be missing an opportunity to get both more exposure (and thus cooperation) and buy-in from company departments if they make the effort to spread the word about such a useful resource. Here are a few examples of benefits of a contract database:
* Board members: Because they are interested in top-level views of company health, board members need to be able to access key company-wide information – such as the full scope of active contracts in-house. Financial summaries on contracts can shed light on internal operations and even demonstrate where operational budgets are being spent. Are they aware that this data is being collected and organize? If not, you may want to make sure they know.
* Sales departments. Although many contract databases may be set up for vendor management, sales contracts should be included too. With a complete list of all customer-side contracts in house, periodic reviews are easier to schedule. And here's another tip: Sales staff should be aware of the operating costs to service customers and periodically review those costs so that the "cost" of a sale doesn't change dramatically over time. This may indicate problems with the customer relationship or internal problems. A good sales staffer will want to know which sales contracts are efficient –and which ones are gobbling up service costs. Read another post on sales and contract management here.
* Procurement and supply chain. Depending on the nature of your company's business, procurement or supply chain managers may play a bigger or smaller role in your company than in others. Nonetheless, employees in procurement or supply chain roles should be aware of all contracted activity and closely monitor those for performance and renewals. The period before renewals, especially, is critical because any problems/issues should be addressed before a contract's end date to improve procurement or supply performance. See more about supply chains and contract management here.
* CFOs and finance staff. There's a good chance that if you have a contract management solution, your CFO is well aware of it. However, they may not be seeing the reports on contract activity that you're generating – so this is a great opportunity to reach out and offer more information to your CFO. Financial summaries of contracts will be of special interest to the CFO and her or his staff. Make sure they know such summaries are available. Read more about CFOs and contract management here.
* Marketing departments. Don't think marketing managers need contract management? Considering how many marketing automation tools there are now in the market, there is a chance that your marketing department is contracting with several solution providers. This is not unlike managing any software contract, so marketing automation contracts should be going through the same kind of periodic reviews that the IT department conducts to ensure contracted software or cloud services/solutions are performing as expected.
* IT departments. These traditionally overworked staffers are particularly prone to thinking that SLAs (service level agreements) are a kind of contract guarantee. As mentioned in this blog, that may not be the case. An SLA is only part of a contract, however, and relationships with software vendors should be managed for performance and renewal issues as with all contracts. Given the complexity and number of software or cloud vendors in the modern enterprise, it may be easy for IT departments to miss all the active contracts affecting IT. Simply having a single indexed database that describes all the contracts in place can help when IT managers need to scour for extra resources or query vendors on proposed services.
* Accounts payable. In some businesses, simply handling the large number of inbound invoices and assuring payments and processing can be a huge task. Without a doubt accounts payable departments should know about a contract database. This is the final word on what contracted costs are supposed to be. This can matter a lot when per-unit costs don't match contracted prices. How are accounts payable supposed to know what is and isn't a contracted price unless they know what's in the contract?
* Business development. A contract database is a kind of map of your company's relationships. Business development pros often needs to know the full range of business relationships a company has with current vendors and customers in order to mine for new business with existing customers or target new customers.
If you are a contract database administrator, you probably see the value in contract management better than anyone. But that doesn't mean everyone in your enterprise sees or understands its value. Getting the word out about the benefits of a contract management solution will not only help your work, but also increase data transparency in your enterprise.
That's a net gain for everyone – especially if you're the one to make that happen.
[About the author: Todd Hyten is a former business journalist who now writes about B2B topics and consults on content marketing. You can find him on Twitter and Google+.]
Photo Credit: Tor Lindstrand via Compfight cc
Back to all