Contract Assistant ranks among Top 3 contract management solutions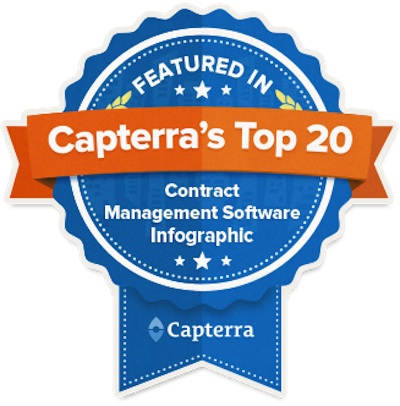 Once again Contract Assistant was rated highly in a ranking of the Top 20 contract management providers by Capterra.
In its just-released infographic, Capterra ranked the Top 20 contract management solution providers and placed Blueridge Software Inc.'s Contract Assistant solution at number 3 out of 20.
The rankings are a result of a composite score that reflects contract management software vendors' number of customers, users and social media presence.
But the rankings are only part of the story. If you want to see exactly what our own customers say about Contract Assistant, you'll want to check out our customer feedback here. Still not enough? You can always check out the customer reviews on the Capterra site as well – here.
It's worth noting too that on the Capterra site, Contract Assistant is the most-reviewed solution and consistently ranks highly for ease-of-use. That's because we've tailored Contract Assistant in three customized versions to fit users of any size, from Standard edition (for small businesses), to PRO (a multi-user version), and our Enterprise edition (for larger enterprises).
Contract Assistant also, consistently ranks highly among reviewers for customer support. You will get personal and direct answers from Contract Assistant support staff – which is something the people at Blueridge Software, the makers of Contract Assistant, take a lot of pride in.
Of course, not everyone will (or even should!) believe what they read – so there are always three options if you are interested in finding out more.
* Download a FREE 30-day trial of Contract Assistant. This is the real software, no gimmicks or stunted-feature version.
* Contract us and request a FREE, LIVE personalized 30-minute demo of the version of Contract Assistant you're interested in. You'll receive a one-on-one tutorial on the software's features, and have plenty of time for questions.
* Contact us via email or phone – any time:
Toll-Free 1 (877) 509-7500
Outside USA 1 (949) 509-7500
Email sales@blueridgesoftware.bz
[About the author: Todd Hyten is a former business journalist who now writes about B2B topics and consults on content marketing. You can find him on Twitter and Google+.]
Back to all