See more of Contract Assistant on Facebook – Here's How
Is there anywhere, digitally, where you cannot access Facebook? As you read this, you may have your Facebook page bookmarked on your work PC or laptop, even be logged in on your phone, and possibly even have it accessible on a third device (like a tablet or iPad).
With the "everywhere-ness" of all things Facebook in our digital lives, it may surprise you to learn that you could easily be missing updates and posts from the Contract Assistant Facebook page – even if you've already visited and "Liked" our page.
Facebook has been altering its look and functionality subtly but consistently over the past year. One of those changes is that the interface has separated out Facebook Page account posts from your regular News Feed. "Page" accounts are the kind businesses like ours have created, not personal accounts. (It would have been nice if Facebook had come up with a better name for business accounts, but that's another story…)
You may see some posts from the Contract Assistant account in your News Feed, but it's almost certain you are not seeing the majority of these.
Ensure you get our updates – 2 ways
There are two ways for you to be sure you catch (or are able to see) the updates from the Contract Assistant on Facebook in your News Feed (and thanks to HubSpot's blog for highlighting these).
If you want to see all the notifications from every business Page you've "Liked" you can see all of them on one page. Just go to your left-hand menu (when you're on your own account's "Home" page) and be sure to press the menu option marked "Pages Feed" – it looks like this.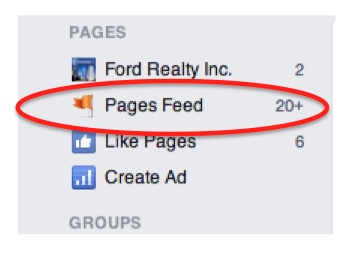 When you click on "Pages Feed" there's all of the business Pages that you've ever liked, all conveniently ordered on one page. I have to admit – I hadn't used this option before and I was pleasantly reminded of all the business-related pages that I had not seen for quite some time!
Another option is to click the "Get Notifications" on the Contract Assistant home page when you expand the "Like" box. It looks like this: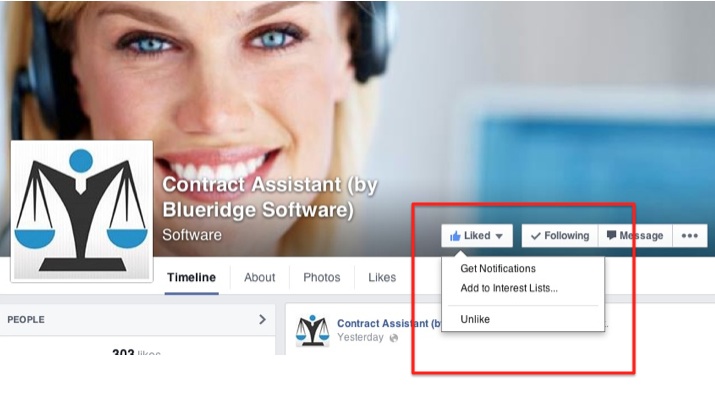 Of course, another option is to bookmark our Facebook page or just make a regular habit whenever you're on Facebook of checking your "Pages" News Feeds. Note that there's also the option to "Add to interest Lists," which is another way to keep track of interest areas, but simply clicking "Get Notifications" is really all you need to do.
Back to all