Want to be an 'Intrapreneur?' Consider contract management
If you've been looking up the topic "contract management," then you may have already stumbled upon some information about what it is – and why you'd want to use it.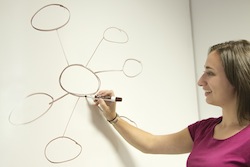 But here's another reason: proposing a contract management solution for your company may just help get you noticed as an "intrapreneur."
Intrapreneur, for the uninitiated, is someone who acts like an entrepreneur, but within his or her company structure. It's not only a great way to get noticed, you can remind your management of all the benefits that have come from "intrapreneurial" initiatives.
For instance: the Post-It note, Gmail, and the Facebook "Like" button – all the result of internal employee initiatives.
In a recent article on Forbes.com, author Dan Schwabel, who runs a Gen-Y research and management consulting firm, teamed up with American Express to study millennial attitudes in the workplace.
Of course the subject of intrapreneurial activity came up when discussing what motivates younger employees. Luckily, today's work environment is supportive of employees who show initiative. According to the study, that 58% of managers are willing or very willing to support an employee's new business opportunity.
So is contract management a new business opportunity? Maybe not in the traditional sense – but it is a way to contain and control costs and mitigate company-wide risk. These days, that's as good as a new business idea. In fact, it may be even better. While getting into a new line of business or developing a new product can be cost-intensive, a contract management solution can be economical and lead to immediate benefits.
If you're wondering how to bring up the topic of a contract management solution, consider that it's an answer to these problems:
– Improving internal efficiency through centralization (by creating a database of contract records)
– Mitigating the risks associated with not meeting contractual obligations
– Mitigating risks by assuring vendors are meeting contractual obligations
– Boosting visibility into contracts under management through coherent reporting (filling a need for more data-based decision making).
If you are seriously considering a contract management solution, you may want to start by checking out these resources – and finding out more about Contract Assistant.
Back to all