What Michael Bay's meltdown can teach us about contract management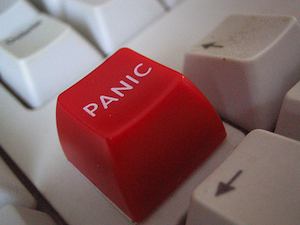 With the exception of Steve Jobs, the words "charisma" and "tech industry executive" rarely fit in the same sentence. Most tech industry C-level executives seem to have the charisma of a two-day-old tuna sandwich.
So it is understandable why industry bigwigs at the popular Consumer Electronics Show want to hire a bit of Hollywood flash to spice up their presentations.
That's why action movie director Michael Bay (Transformers, Armageddon, The Rock) was at CES this year to help Samsung introduce their new line of curved-screen, UHD TVs.
When the teleprompter failed, Bay fumbled, and then abruptly walked off stage (muttering his apologies), leaving a perplexed Samsung executive to heroically carry on as a one-man show.
The videos of Bay's appearance, albeit short, at CES have already racked up (collectively) more than one million views on YouTube. Of course, on some level you have to feel for the guy. He's a director, not an actor. He doesn't do improvisation – and he had to go "off script" without much practical experience of how to do that.
When things go 'off script'
Of course, many people in the B2B world have to deal with situations that are "off script." Going "off script" often happens when market changes, customer response/demand or supply changes dictate a key change with a vendor.
Contracts with vendors and suppliers are, in a sense, a script. Both sides try to codify the parts they'll play based on certain assumptions about the future. The key word is "assumptions" – no company can really predict the future with certainty.
No system, no order, more risk
When things go "off script," changes need to be made with vendors on the fly. A mid-contract change from a vendor may in turn affect many other parts of the business. Accounts payable may need to make changes or adjust payments; service or product centers may need to change inventory; sales staff may need to revise sales collateral.
Without a contract management solution (an accessible database of key, searchable contract information) many companies may not be able to effectively deal with these "off script" changes.
A contract that is simply stored in a file cabinet or is squirreled away as a PDF on a user's computer desktop is a dead and irrelevant document when big changes occur mid contract. How are changes to existing contracts recorded? Without a contract management solution the answer is simple: they are not recorded. This doesn't mean they are unknown – there would be, no doubt, key stakeholders who approved or negotiated changes with vendors. And vendors themselves may send over statements of understanding regarding the changes.
The problem is, these are not centralized, searchable or even very useful ways to record contract changes. As noted in a prior blog, relying on "institutional memory" is a big mistake when key employees are no longer around to remember what happened and why.
That provides a lot of exposure to financial risk: when contracts change, payment conditions may change: overpayments can be made, duplicate payments can crop up. Even underpayments to vendors can result, which can lead to friction with key vendor, or worse.
Databases prevent contract chaos
Now consider the scenario where you or your company has a contract management solution in place.
As with Contract Assistant, your company would have its own database where each contract is stored as an electronic record that notes all contract details. Via in-record notes or the ability to link to or store related documents, you have a place to record all changes and change-related documents.
With a contract management solution, there is also an added benefit that ensures contract changes get recorded: people in charge of contract management. If your company goes to the trouble of implementing a contract management solution, no doubt on some level (either by department or business branch) people are going to be tasked with recording contract information.
With the people dedicated to recording key contract information (and changes) and the tools to record contract-related notes and documents, you have the basic tools that prevent contract chaos.
This also means that at any future date, information about contracts and mid-contract changes can be searched. Contract Assistant, for example, features multiple search filters, and depending on the edition you use (Standard, Pro, Enterprise), your organization may even have the ability to search all stored documents as well.
When gathering data for quarterly or annual reports, a contract management solution can go a long way to ensure key financial information on contracts doesn't "go missing" – even if they go "off script."
Photo Credit: Krysten_N via Compfight cc
[About the author: Todd Hyten is a former business journalist who now writes about B2B topics and consults on content marketing. You can find him on Twitter and Google+.]
Back to all