In case of emergency, do not break glass, consult your contract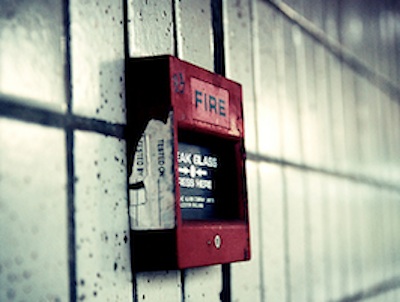 "Be prepared" shouldn't just be the old Boy Scout motto; it should be the motto of anyone managing vendor contracts. That's because whatever can go wrong, usually does.
For any businesses, and especially those relying on a complex supply chain for their end product, vendor and supply problems are to be expected. However, there are those instances when a problem crops up at the exact wrong moment – and a minor supply problem turns into an emergency.
For instance:
— A medical supply company could suddenly find it is unable to make deliveries when it's contracted delivery company encounters problems with its Department of Transportation permits.
— A company that does custom embroidery for work wear finds out it can no longer get a specific must-have color of thread – with the deadline for a huge order just days away.
— A building supply company discovers that imports of wallboard have curtailed because a foreign factory has shut down.
In today's global economy, any link in the vendor supply chain can be a source of real business risk. In an instance where the problem creates a true time-sensitive emergency, being able to quickly assess contract terms and contingencies is crucial.
In all of the above scenarios, accessing and understanding quickly the terms of the vendor contract is a key first step to determining a course of action.
For instance, does the commercial transport company in the medical supply company example guarantee alternate forms of delivery if they can't complete the task? Does the embroidery company's contract with the thread supplier define who is responsible when stock is unavailable? For the building supply company, do any of the contracts call for make-goods when quantities can't be supplied in a timely manner?
Contract management to the rescue
It may not seem like a must-have tool for emergencies, but by simply filling out a key clause or key element field correctly can save your company critical time in a supplier/vendor emergency – here's how.
For the contract management solution Contract Assistant, every edition (Standard, PRO, Enterprise) comes with the ability to fill out Key Elements/Clauses fields for each contract record. Here users can essentially record each key clause of a contract (as well as amendments/changes) and record by name and associated date and details.
If filled out completely, the Key Element/Clause fields of any contract record create an instantly searchable database of important contract elements. Think of how useful it is to search just for just key words in these fields rather than spending time poring over contracts stored in Word or PDFs or in paper format.
Being able to look up Key Element contract information when the clock is ticking to resolve a problem can be the difference between a problem that's "solvable" and an emergency that means lost clients and revenue.
No doubt in some instances there is someone or a key stakeholder who will know what obligations vendors have to be held to when problems arise. But will that person be available at all times or days when it really matters? And of course when talking about contract terms, there is no replacement for looking at the recorded, solid data and numbers in the contract.
Of course, in any real emergency, your company will certainly be circling the wagons and be doing it all it can. A contract management won't necessarily be the solution to your problem – but it can certainly inform the situation and help clarify issues of responsibility.
When time and deadlines matter, the ability to quickly look up and retrieve key contract data could make it possible to find options and solutions in time. There's really no substitute to saving time and money under emergency conditions.
Photo Credit: Shermeee via Compfight cc
[About the author: Todd Hyten is a former business journalist who now writes about B2B topics and consults on content marketing. You can find him on Twitter and Google+.]
Back to all