Why an office relocation is a great time to review contracts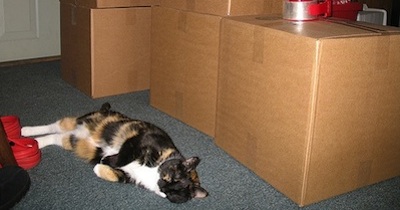 If you've ever worked in sales, then you know that what sales people do with long-term prospects is look for an "opportunity" to reconnect. Any good reason (key word good) to reconnect is another opportunity to upsell or sell to a client.
As in sales, an office relocation or move is the perfect "opportunity" to review all your in-house service vendor contracts, whether the service is tied to a location or not.
Think of all the types of basic office services that your company may buy from vendors (just to name a few):
— Internet, Voice and Phone
— Printers and print fleet
— Office products and supplies
— Data and data storage
— Energy/electricity
— Server/server stack
— Local area network
— IT infrastructure
— HVAC
— Property management
— Cleaning/janitorial
Let's say your business or branch has a contract for the management of all your in-house printers. For a business or branch with anywhere from 5 to 25 enterprise-volume printers, these type of service contracts make more sense than spending time ordering inks and calling technicians for repairs.
You may not be changing the makeup of your in-house printer fleet, but the office relocation may give your company an opportunity to review your current service contract with your vendor. Has your business or branch received other offers for printer fleet management from other solution providers or vendors?
If nothing else, an office move is a good way to entice new vendors to beat or meet the offerings of your existing vendors, too.
For instance, your company may have a business cell phone account. There's a good chance that after someone has done the legwork of selecting a certain carrier's plan and vetting other options, and now there's little attention paid to competing carrier's offers.
And yet … after a year or even six months, a competing carrier may certainly have changed their pricing and business plans. Has your company received any information on these offers? Office relocation is a good time to bring up these competing vendor services to your existing vendor.
As the immortal (and fictional) ad executive Roger Sterling once said on the AMC TV series Mad Men: "The day you sign a client is the day you start losing them." Sometimes it's good to remind your service vendors that your business or branch is always looking for better services – wherever they may come from.
When you are relocating or just making a lateral move to a new space, the conversation may just be about investigating options. If your business is downsizing or expanding, then you've got more leverage on your end of the negotiation with service vendors.
With and without contract management tools
Now consider the task of examining your service vendor's offerings with and without a contract management solution. If your business does not use a contract management solution, this means you're starting from scratch – with probably dozens of vendor contracts saved as PDFs or Word docs, and probably scattered electronically on a handful of employee's hard drives.
Even if your business is ultra efficient with storing contracts, the chances that you can call all of them up and review contract values and key clauses and financial summaries without a lot of analysis "by hand" is, frankly, not good.
A contract management solution, such as Contract Assistant, allows you go call up all of your vendor contracts in one click and review current terms and financial summaries in a few more clicks. The task of reviewing all your contracts to make a list for reconnecting would be infinitely easier if you have your own, customized in-house contract database.
Otherwise, you can look forward to endless hours of just searching for the right documents, and maybe a lot of spare printer paper so you jot down financial info. for comparison and analysis.
The bottom-line benefit
But given the right tool (a contract management solution), your business can easily go through its list of contracted vendors and start a conversation on what they can offer.
This may result in modified contracts with better terms from existing vendors – or maybe a switch to a new vendor with a more affordable mix of offerings. True, not every vendor can be judged on price alone – but if the deciding factor isn't price, it's often in how that vendor's services increase productivity or efficiency. In the end, either one will affect your business or branch's bottom-line health.
That makes an office relocation or move a great "opportunity" to reconnect with service vendors.
Photo Credit: Trinity via Compfight cc
[About the author: Todd Hyten is a former business journalist who now writes about B2B topics and consults on content marketing. You can find him on Twitter and Google+.]
Back to all