Trends you need to know before signing your next offshoring contact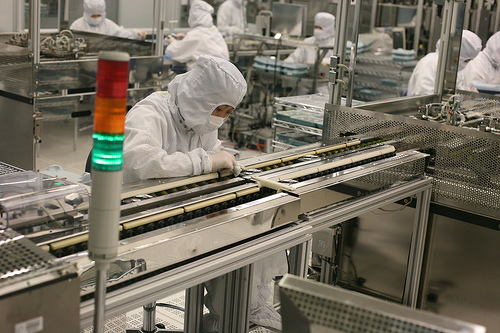 A recent article on IndustryWeek.com takes a broad view of offshoring (locating manufacturing overseas) as it affects mid-market companies. Although manufacturing in the US has made steady yet modest gains in output for over a year, the offshoring trend isn't going away.
The article reports on a recent survey of mid-market company C-level executives conducted by management consulting company The Keystone Group. Article authors Shah and Moushon point out that although cost saving is a big motivation for outsourcing and offshoring, it's not easily achieved.
Although many companies reported cost savings of 20 percent "the general consensus" was that offshoring takes longer and is more costly than anticipated. Unfamiliarity with cultures, customs and problems in the supply chain and quality control all help to nibble away at an offshoring project. Another area of unpredicted costs is the need for management of offshore vendors because mid-market companies typically lack management staff depth.
In a particularly eye-opening factoid, Shah and Moushon report that nearly one third of companies surveyed reported relocating or planning to relocate from their original offshore location due to rising costs (!).
This is probably why the authors reported that companies which offshore for pure cost-saving reasons are the least satisfied with their results. Keeping labor costs low is a prime motivation, but so is proximity to key markets/customers and suppliers.
For companies considering offshoring, then, it seems pretty clear that contract management has a key role to play. After all, if escalating "unexpected" costs in building offshore manufacturing sites is a known issue, then any contract has to anticipate areas of cost over-runs, then needs to be closely managed in its execution phase.
It speaks volumes that mid-market survey respondents noted that cost overruns come from unmanaged offshore supply vendors. This may point to a lack of contract management practices predating offshore efforts.
After all, if your company already has a contract management solution, such as Contract Assistant, then there is a good chance your company has the right tools to practice active contract management. When considering offshoring, a smart management team should also consider whether its contract management practices are up to speed.
And finally, when considering offshoring, any mid-market company should be aware of the one-third of surveyed companies that reported the need or plan to relocate again. That means anticipating that the vendors and supply chains set up to service the first location may change.
Considering a vendor contract "finished and filed away" is a bad idea if you know you may only be working with that vendor for just a few short years. It makes more sense to up the pace of internal and client reviews, financial summary reports and to carefully record all notes and communications on the contract – something easily done when you have a contract management solution in place.
Offshoring is here to stay, and mid-market companies will face a lot of challenges in offshoring. Good contract management, however, can go a long way to ensuring a more successful outcome.
Photo Credit: Robert Scoble via Compfight cc
[About the author: Todd Hyten is a former business journalist who now writes about B2B topics and consults on content marketing. You can find him on Twitter and Google+.]
Back to all